News
You can find updates in this page. If you don't see any, you can come back later or follow us on Facebook and Twitter.
17/3/16, Teatro Comunale di Carpi (ITALY) – Great success for Al's debut!
2016/03/25
WORLD PREMIERE 17th March 2016
2016/03/18
SAVE THE DATE!
17th March 2016, Teatro Comunale di Carpi – MODENA (ITALY), Al's Adventures in Wasteland – a World Musical for Children
1st performance 9.15 a.m. 
2nd performance 11.00 a.m. 
3rd performance 9.00 p.m.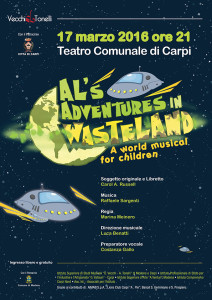 Rehearsal in Modena (Italy)
2015/12/12
rehearsal for Al's Adventures in Wasteland with Luca Benatti (musical director) and Costanza Gallo (vocal director) at Modena Conservatory of Music